Offers of Car rental in Minsk by Naniko
Rationality and efficient planning are inherent tenets of our century. And do not think that these definitions apply only to working every day, but most of all suits for the rest period.
This is logical; because with today's pace of life, no one wants to lose a single second of its precious leisure time to resolve some current nuances or downtime at the bus stop waiting for public transport. Why, if everything can be harmonize in advance.
Naniko auto hire offers suitable for your trip to Minsk, a broad option of:
Small and economical cars or minivans,
Sport convertibles or SUVs;
Automatic or mechanical transmission.
Reservation Center 24 hours at your service
Extras for convenience or safety
Quick receipt and return of vehicle
Services of elegant and knowledgeable in local roads drivers
Car delivery to any address
The capital of Belarus
Minsk - the principle city of Belarus and very special and attractive one in Eastern Europe. Having a central geographical position in the country and crossed by river Svislach, the city still bears traces of the Soviet era. Still visible are here an impressive characteristic of massive buildings of Soviet architecture, green parks, historic churches and museums.
This is a major administrative, industrial and commercial center.
The first mention of Minsk exists in medieval chronicles. The impact of the city on the political and economic life of region was destined to its strategic location.
Conquered in 1655 by the Russian Tsar Alexis, and then by Poland, Minsk was again returned under Russian rule in 1773.
The city was rebuilt many times, especially after the almost total destruction of bombing during the Second World War.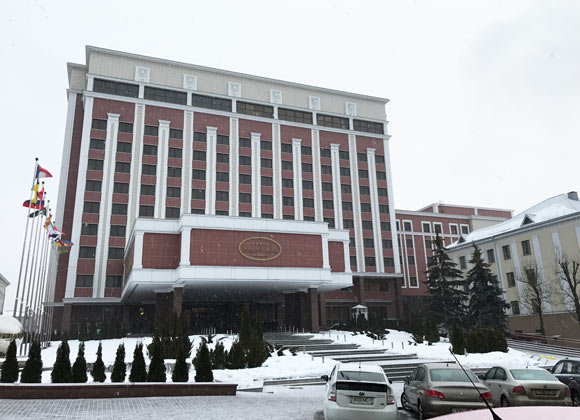 Visiting the city can start with the Liberty Square, where until today stands the statue of Lenin, and building of the Belarusian University.
Minsk is divided into two parts by the river Svislach and is characterized by large avenues and vast squares. The historic city center is called Rakov.
The old town is on the east side of the river, with buildings of 17-18th centuries, but restored in the last period.
It is interesting to visit the Island of tears on the waterfront, where is a memorial monument to Soviet soldiers who died in Afghanistan.
On the Francis Scorina street can admire the architecture of Post Office and shops of GUM.
In the northern part is the Cathedral of the Holy Spirit. Situated on a small hill, it can even be seen even from afar.
Organize your trip to Minsk intelligently with the help of car rental from Naniko!
Also read the other points
Naniko Other Locations
Other countries: